Treatments with Julia
Restore harmony and balance with Holy Fire® Healing
Treatments with Julia
Restore harmony and balance with Holy Fire Healing
Reiki Treatments Available & Prices
I am currently offering treatments at The Cottage Healing Centre Tamworth and from my dedicated treatment room at my home in Shenstone. Please note that there's no onsite parking available at the cottage, but nearby parking is plentiful.
I work flexible hours, including evenings. Reiki in your own home is also offered, for those unable to travel to me. Reiki in hospital is also offered, and from experience hospitals are usually happy to accommodate this. Feel free to contact me personally using the form below to discuss your treatment needs.
A treatment costs from £40:
1 hour "Bliss" Holy Fire® Reiki from £40
Immerse yourself in this blissful session of relaxation and healing energies! A wonderfully calming experience, where afterwards you will feel totally rebalanced and recharged. A perfect way to try Reiki for the first time.
1 hour "Couples" Holy Fire® Reiki from £55
For partners wishing to share the healing energies together, or for those who may not feel confident having Reiki on their own. (I will alternate the healing between each person during the session).
1 ½ hours "Ultimate Bliss" Holy Fire® Reiki from £55
Indulge yourself with this ultimate session of relaxation and healing energies, perfect for those wishing to experience the benefits of a longer treatment.
All sessions also include spiritual guidance and Chakra Balancing. If intuitively guided to do so, I will also use Crystals, Sound Healing, Oracle Cards and Sacred Oils.
Payment can be made via PayPal /cash / bank transfer, whatever works for you! Cancellations can be made up to 24 hours in advance.
Please note, your first appointment will last slightly longer (at no extra cost).
What happens in a treatment?
During a Reiki treatment you will lie down fully clothed (shoes removed) on a massage table lightly covered with a blanket or if more comfortable you may alternatively sit upright in a chair. The environment will be peaceful and comfortable.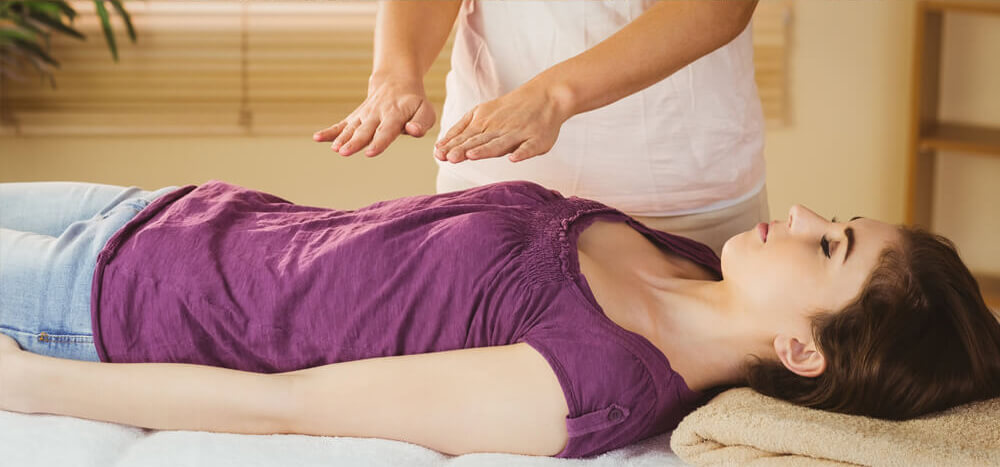 Experience deep relaxation through Reiki
Relaxing music will usually be played throughout the treatment. I will gently place my hands lightly just on, or above, the body (avoiding any personal areas). The energy will gently flow through my hands and into your body and energy field. The Reiki energy will intuitively flow to where it is needed, I may also place my hands in certain locations or energy centres on the body that I feel drawn to, such as the head and shoulders, abdomen, or legs and feet, holding each position for a few minutes.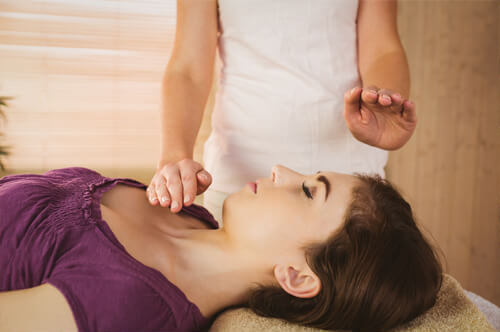 During a treatment, my hands will be placed either lightly on the body or just above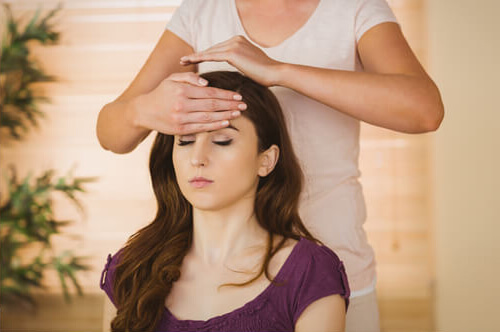 For people with mobility problems, it is also possible to give Reiki whilst seated in a chair
No manipulation of the body is ever involved. You will feel totally relaxed and sometimes you may feel the energy as warmth, coolness, or sometimes beautiful colours are experienced, but most people just fall into a state of deep relaxation.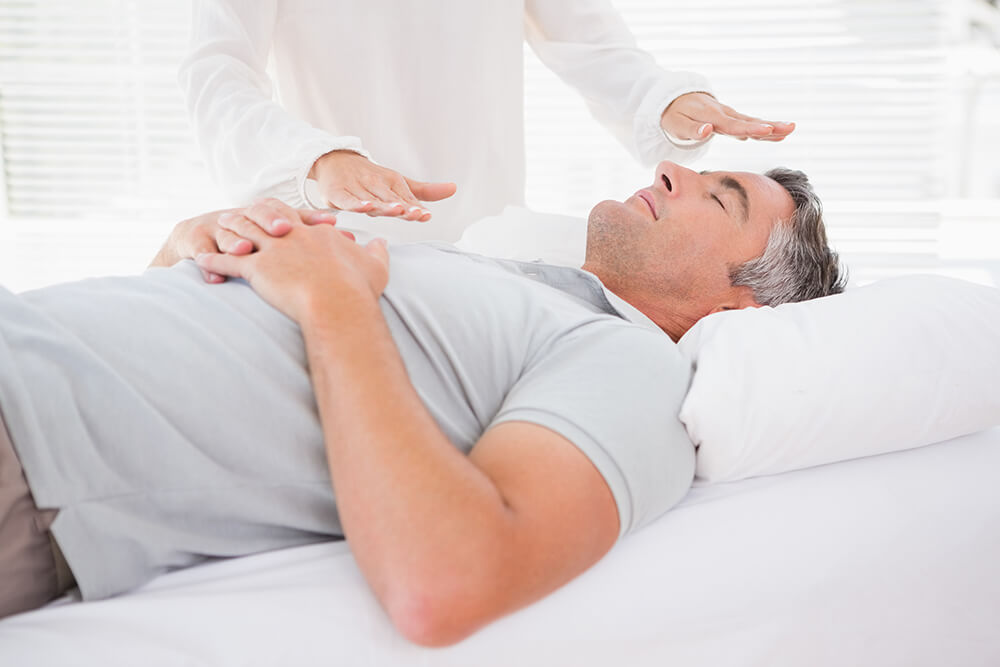 Men benefit from Reiki too!
On your first visit you will be asked to fill in and sign an initial consultation form and discuss (where appropriate) the reason for your visit. Extra time is allowed for this, so your first appointment will take slightly longer to allow for this (at no extra cost to you). A follow up discussion is welcomed if you wish to do so.
Reiki is gentle and safe and can be given to all ages, including young children and the elderly. Reiki can be given in a hospital setting or at request, in a person's own home. Reiki is a wonderful, supportive, holistic therapy but should never be used alone as a treatment for any underlying medical condition that you are aware of. It is also advised that if you are undergoing any current long term medical treatment, such as chemotherapy, that you inform your medical practitioner that you are having Reiki sessions.
How many treatments will I need?
There is no set amount of Reiki sessions. I have found most people are helped with perhaps a course of 3 or 4 sessions followed by a top up whenever felt needed but some people may only need one. If you are experiencing a long term or chronic health condition, I am more than happy to discuss the possibility of a discounted rate for you.
Book a treatment with me
I am currently offering Holy Fire Reiki® sessions from the Cottage Healing Centre, Tamworth, and also from my home near Lichfield in my dedicated treatment room. Please note there is no onsite parking available at the Healing Centre, but there is at my home.
Please provide your details in the form below to start your healing journey.
You can also contact me directly on 07540 697 239
What my clients have to say
I can never thank Julia enough
" I can never thank Julia enough for the Reiki sessions that I had with her. I had recently suffered a bereavement and felt totally lost, the Reiki sessions helped me to put life in perspective, and helped me to find peace and a way forward. Julia is a wonderful, kind and generous person, not only did she help to heal, she also had the time to listen. I went to see her a little doubtful about what Reiki could actually do for me and was amazed at how calm and healed I felt after each session".
~ Amanda

The weight of the world had been lifted from my shoulders
"After a rather emotional time last year, I felt I needed to treat myself to some therapy. So I found Julia who practiced Reki, local to where I live. She straight away put me at ease, and tuned in with my emotions and frustrations. When I entered the room it was set beautifully for my treatment. It was very calming and had lovely aromas! After my Reiki, I felt the weight of the world had been lifted from my shoulders, frustration had been replaced with peace and calm, and I felt whole again. It felt like Julia had given me the confidence to face any challenges. I will definitely encourage anyone to consider this treatment."
~Tracey
Julia had left a family meal to come and give my daughter a session of Reiki healing
"I first met Julia when she came to the intensive care ward of the hospital where my daughter who was very, very ill with sepsis and organ failure, doctors had told us they did not expect her to survive. I remember Julia's first visit well as it was Easter Sunday and Julia had left a family meal to come and give my daughter a session of Reiki healing. Julia came most days to continue giving my daughter Reiki healing and this continued for a few months. Julia was also giving my daughter distant Reiki healing.
After 14 months in hospital she eventually came home. I will always be grateful to Julia for the healing she gave my daughter over the months and beyond, she is a wonderful Reiki Master and I can wholeheartedly recommend her to everyone."
~ Charlotte
The room where the Reiki takes place is a soothing haven
"I was very skeptical about alternative therapies, but a friend recommended Reiki when I was facing a difficult time following a relationship breakup and the terminal illness of a parent. From the moment I met Julia, with her warm, caring nature, I began to feel calmer. The room where the Reiki takes place is a soothing haven and the Reiki experience filled me with a sense of peace, enabling me to face my situation with more clarity and an open heart. This is all facilitated by Julia and I am very thankful that I found her at that difficult time. I would urge anyone, however cynical, to try Reiki with lovely Julia, she was truly my saviour at that time."
~ Nicki